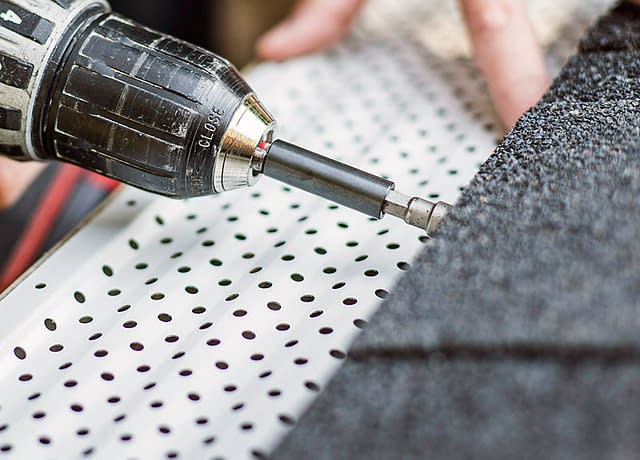 Spring has sprung, which means that the flowers are blooming and trees are regrowing their beautiful leaves. While the springtime makes for stunning scenery, it also means that your gutters are much more likely to clog. As far as home problems go, clogged gutters may not seem major. But, if a gutter clog isn't cleared up promptly, it could cause your gutters to leak every time it rains. The leaking precipitation can cause costly water damage to your home in Omaha.
Enter: GutterRx. GutterRx is one of the most popular and reliable gutter guard systems around. It provides the strength and weather-resistance to keep your gutters free from debris, even during the spring and autumn, when tree debris is at a peak. 
There are several benefits that you can reap from having GutterRx for your home. It can even help you avoid Omaha gutter damage, saving you both time and money. 
Why Do You Need Gutter Guards?
Gutter guards are important for the health of your Omaha gutters. Here's why:
Gutter Guards Keep Debris From Clogging The Gutters. 
The main reason why gutter guards are important for the health of your home is their ability to keep debris out of your gutters. Debris, such as leaves, dirt, and pine needles, can accumulate in your gutters faster than you'd think. When this happens, it can clog up the gutters, making it impossible for water to flow through them. So, instead of draining properly away from your home, the water will likely leak out of the sides of the gutters, creating the risk of water damage to your siding and foundation. 
By keeping debris from getting into your gutters in the first place, gutter guards will reduce the risk of a gutter clog. This can further prevent water damage to your Omaha home.   
Gutter Guards Reduce The Amount of Gutter Maintenance That You'll Have To Perform.
No one wants to spend copious amounts of time maintaining their gutters. Gutter guards can reduce the gutter maintenance that your home requires by filtering out debris. This will spare you from the tedious task of cleaning out your gutters. In the long term, by preventing gutter clogs and leaks, gutter guards will also prevent more extensive maintenance to keep your gutters in top condition. 
Gutter Guards Prevent Gutter Damage. 
Clogs and leakage can damage your gutters. Whether it be damaged seams, detached gutters, or corrosion, you'll need to schedule Omaha gutter repairs to restore the condition of your home's gutter system. 
By preventing clogged debris, gutter guards will lower the probability of damage to your gutter system. 
Gutter Guards Stop Rust. 
When wet leaves, pine needles, and other debris sit inside of gutters, it can lead to rust. Rust eventually will cause your gutters to corrode. If the gutters are severely corroded, a full Omaha rutter replacement could be needed. 
By stopping wet debris from accumulating inside of your gutters, gutter guards prevent rust. This will prolong the lifespan of your gutter system and spare you from the expense of a premature gutter replacement. 
What is GutterRx?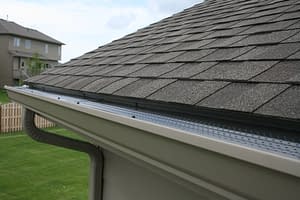 GutterRx gutter guards are among the leading gutter guards around today. Made in America, GutterRx guards are aluminum inserts that fit tightly to home gutter systems. These guards can be installed onto existing and new gutters, providing convenience to a wide range of homeowners. 
What Are The Benefits of GutterRx?
GutterRx provides many benefits to the condition of your gutter system and your home as a whole. These benefits include:
Compatibility with both new and existing gutters
Four size options, including 4.5", 5", 6", and 7" to suit a variety of gutter systems. 
Weather-resistance to withstand the wide variety of weather conditions that we experience here in Omaha
No interference with roof shingles
Features a patented ridge design that optimizes airflow so that most debris can be blown away with the wind 
Constructed from 98% recycled aluminum
Closes off your gutter system so that nesting animals can't access them 
Once installed, GutterRx lays flat so that it's virtually invisible from the ground
Secured in the front and back to reinforce the strength of your gutters. 
Available in white and dark bronze
For more information about how to keep your Omaha gutters in top condition, contact AGR Roofing and Construction today.