Are you thinking of adding square footage to your home? Building out isn't the only option. If you don't have enough land to expand onto, then renovating up into the attic can be a great alternative.
In this case, you can either:
finish the attic,
or raise the roof and finish the interior.
First, Know What's Legal
Finished attics have to meet certain coding requirements to be considered a legal and safe living space. Here's a quick summary of what most local building codes require:
Floor Space: finished attic spaces should be at least 70 square feet
Width: the living space should be at least 7 feet wide or long
Ceiling Height: at least 50% of the room's usable space needs a clearance that's 7 feet high
Windows: windows space should be at least 8% of the square footage, with a minimum of 4% able to open
Staircase: attic living spaces need proper code compliant staircases as exits, ladders don't suffice
HVAC: attics in cold climates need to be heated to at least 68 degrees Fahrenheit and those in hot climates need enough ventilation to stay only up to 20 degrees higher than outdoor temperatures
Exits: attics should have at least two exits available, the stairs and at least one more emergency exit, like an openable window
Weight Bearing Capacity: finished attics need a load capacity of 30 pounds per square foot
You will need to get an inspection done to make sure the attic can support the weight of your renovation and ensure that everything is structurally safe.
Let's cover some of the details involved in finishing an attic space or raising the roof.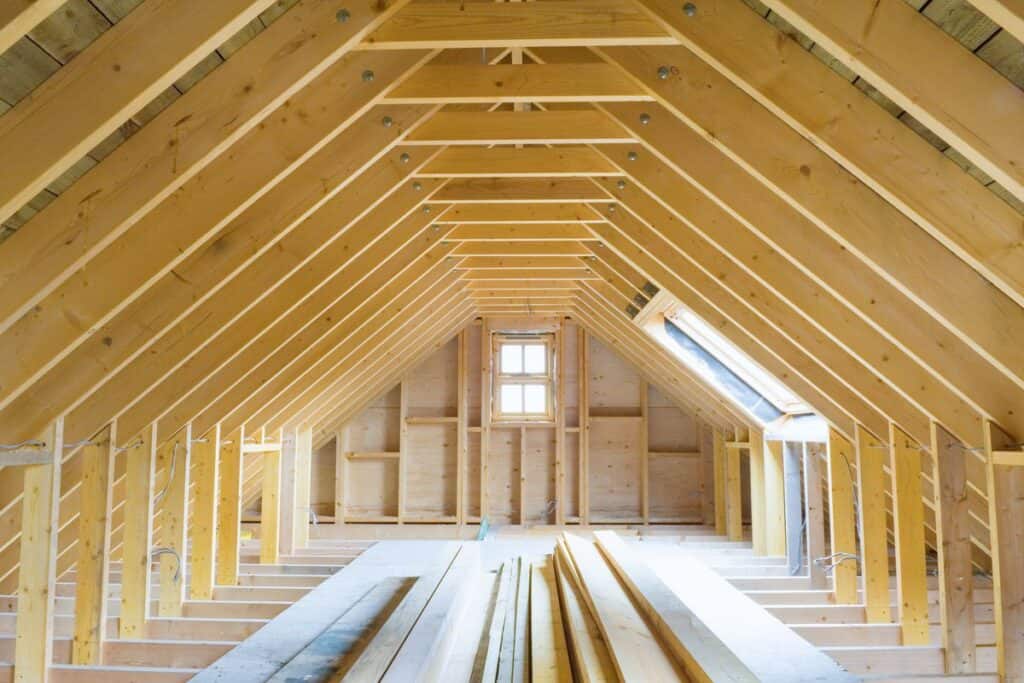 Finishing an Attic
Attic's make perfect master suites, home offices, reading lofts, studios, home movie theaters, and workout areas. But that's only if you enjoy spending time in it. So, once you've taken care of your legal building requirements, make sure the space is livable and pleasant to be in.
Consider adding skylights to bring as much light in as possible
Keep the paint colors on the lighter side
Use controllable recessed LED lighting to keep things cool and energy-efficient
Suppress floor noise with insulation or flooring rugs
Add ceiling fans for better ventilation
Add removable screens to openable windows for natural ventilation without pests
Add solar shades to windows
Make use of knee walls and dormers by turning the area into desk space or built-in storage
How Much Does It Cost to Finish an Attic?
Home Advisor puts the national average at $8,000 to $80,000. It depends on what you plan to do. If you want to add in a bathroom, expect the costs to reach the higher end. If you plan to just make it livable for some office space, you can expect to pay around $8,000 to $10,000.
How Long Does It Take to Finish an Attic?
It can take anywhere from 8 to 10 weeks to finish an attic. Things can wrap up quickly when you have pros on board who know how to get permits, navigate your local municipality, and have great suppliers on hand.
How to Raise an Attic Roof
Raising your home's roof is a serious project that will involve a structural engineer and licensed, insured, and bonded contractors. Get an experienced roofing reconstruction contractor or structural engineer on board with you from day one.
These projects always begin with a structural evaluation to determine what you're working with and how feasible the project will be.
There are two main roofing structures:
A truss roof has triangular overhead framing providing the roof's support. These structures are generally considered easier and more straightforward to raise.
A stick roof has framing along the walls that's connected to central beaming. It generally requires more work to raise these since the structures have to be completely torn down and rebuilt. However, this makes it easier to adjust the framing and add in vaulted ceilings.
Raising both roofing structures requires taking the roof off with a crane and building new walls from the floor up.
Sound daunting? It doesn't have to be. A competent professional will walk you through this.
What About the HVAC and Wiring?
Habitable attics must have proper ventilation, heating, and cooling. If you are simply finishing up an unfinished space, it should be fairly easy to get this done.
Putting in outlets should always be done by an expert since they will know how to navigate around the insulation without making it a fire hazard.
The attic also includes plumbing lines and ventilation ducts that may go through the roof. If you are raising the attic, these will need to be taken care of by plumbers and HVAC contractors.
How Much Does It Cost to Raise an Attic Roof?
Raising the roof is a major home renovation project. Most estimates place this project at anywhere from $15,000 to $75,000, with some renos having the potential to cost over $125,000.
The cost includes:
Structural Engineer Consultation: ~ 1,500 for consultation, planning, and securing permits
Electrical Rewiring and Plumbing Restructuring: ~ $4,500 to dismantle the current wiring and plumbing, then reinstall them for the new structure
Roof Removal, Reinforcement, and Replacement: ~ $8,000 to take off the remove, take waste away, and put in new framing reinforcements
Home Exterior Retouching: ~ $7,500 for any necessary repairs or retouches to paint, siding, insulation, or fixtures
A few conditions will make the costs go up. These include:
finding any issues, particularly structural ones
raising a roof with chimneys
raising the roof's pitch or adding in dormers to get more headspace and bring light in
adding skylights
But if things go smoothly, these renovations can be kept below $15,000.
How Long Does It Take to Raise an Attic Roof
Raising the roof should take around four to six weeks. Whenever a project is this sizeable, there is the potential for things to go awry or for unscrupulous contractors to attempt to take advantage of you.
So, please use contractors who are licensed, bonded, insured, and have stellar reputations.
Trusted Roofing Renovation Services
Making structural roofing changes may seem intimidating but all you need is an experienced team with the right expertise.
At AGR, we've provided roofing installations, repairs, and reconstruction services for over twenty years.
For questions on any roof alterations, simply email us or give us a call at (402) 639-1218 and we'll be right with you.