Keeping your gutters in good shape is important for avoiding damage to your home. Gutters can collect leaves and other debris which not only make it difficult for rainwater to flow off of the home, but it can clog the downspout and cause water to back up under the gutter and leak under the roof. Regular gutter maintenance is important for preventing damage to your gutter as well as the rest of your house.
Keep your gutters clean
Regularly clearing out debris such as leaves, twigs, and even tree roots or bird nests is the best way to make sure that your gutters will continue to operate smoothly for years to come. Clogged gutters will add strain to your whole gutter system and potentially cause more serious damage if left unattended.
The same general principle applies to gutters as to any other element of your home: Maintain them regularly and keep them clean to prevent damage.
Replace old gutters
Like anything else on the exterior of your home, gutters will eventually wear down and need to be replaced. You should replace your gutters every several years on average. If you live in an area subject to heavy snow, you may want to replace them every few years to keep them functioning properly.
Replacing gutters in segments as they wear out will save you a big replacement bill when the whole system fails. Local roofing contractors like AGR can come and inspect your gutters for free and provide the appropriate recommendation for care.
Install a gutter guard system like GutterRx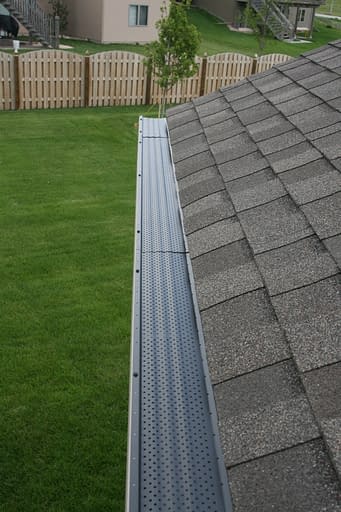 The easiest way to keep your gutters clean is by making it so debris can't even get into them in the first place! Makes sense, right? Gutter guard systems like GutterRx provide an extra layer of protection to keep your gutters from clogging.
Clean gutters allow water to flow easily without adding unnecessary stress to any particular section of the system, therefore preventing damage and prolonging the lifespan of your gutters.
Hire professional gutter repair
Regularly cleaning out your gutters can be a pain, and climbing up a ladder to manually remove debris may not be safe. Instead, hire a professional service like AGR Roofing to come maintain your gutters for you!
In addition to clearing out any existing debris and safely maintaining your gutters, our experts will inspect your gutter system as a whole and provide a free estimate for any necessary repairs. Preventing gutter damage also helps to prevent damage to your roof, siding, and the exterior of your home.
Call our experts today for a free gutter inspection or for help preventing gutter damage!
Book Your Free Inspection Today!